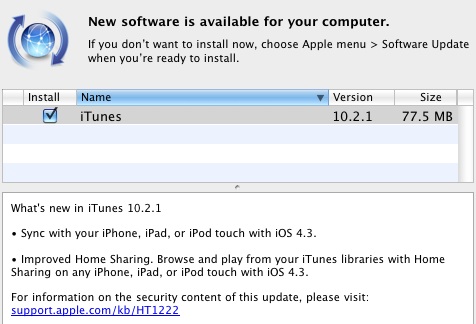 Planning to buy an iPad 2? Well, that is great! The good thing is you can already download the coolest and the latest version of iTunes in your computer and prep it up.
IPad 2 is supported by iTunes 10.2 as well as IOS 4.3, with "improved Home Sharing" added at the same time.
Should you want to download, just check from within the Apple menu for iTunes update or you can also visit the official download page for Apple.
Featuring Home-Sharing In iOS 4.3
Users are now allowed to get access to the iTunes library using their iDevices through Wi-Fi. This is made possible by Apple through their newest feature – the Home Sharing which was unveiled recently. According to the released developer previews, this is what Apple has been planning to add in iOS 4.3.
Cult of Mac was the one responsible for breaking the NDA and posted some of its pictures while iOS 4.3 hasn't gone public yet. Details on how those feature works were also divulged.
In order for the Home Sharing to be activated, you will need the iOS 4.3. This will help you access your iTunes credentials in the iPad tab Settings app. Once your Home Sharing is activated in iTunes using the same credentials and most importantly you have to be sure that you are on the same Wi-Fi network then iTunes library will eventually pop up in your iDevice. Movie streaming, music downloading and anything else that you want to do in your Ipad, IPod touches and Iphones can be done for free.
According to reports, you can do this whole process without any hassles. In fact, this can be done in less than thirty seconds. This is way too cool and we are all looking forward to it!
Incoming search terms: